A Labour of Love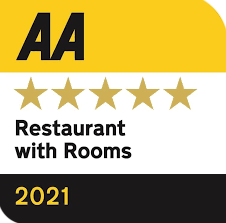 This once run down 12th century inn has now been transformed into The AA's "Restaurant with Rooms" 2021.
Paul & Liz Jackson took on The Hare in 2012 and have spent their time lovingly restoring this tired inn back to its former glory. Managing to combine a sympathetic and tasteful mix of beautiful rustic original features with newer modern design.
The Hare Restaurant became "Restaurant with Rooms" in July 2020 when "White" & "Denison" were finally opened. In Sept 2021 the new garden rooms "Leveret" & "Waters" finally made the project complete!
At the end of September 2021 the AA crowned them "Restaurant with Rooms of the Year" 2021 for the whole of England, a truly massive achievement for the tiny team.